Air Conditioning Service & Maintenance
All our Installations come with our own one year guarantee as well as the manufactures' which can be between 1-5 years depending on the package.
For your peace of mind we strongly recommend that your systems are subject to regular maintenance. It is a recognised fact that a regularly serviced air conditioning unit will have a far longer lifespan, will have higher performance and be more energy efficient than a unit which does not receive regular servicing and safety checks.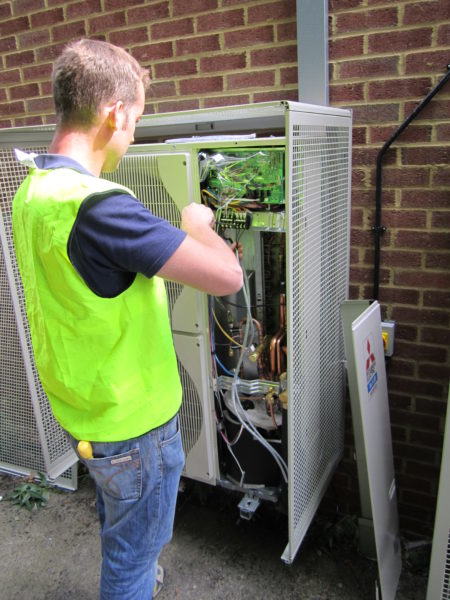 Basic Yearly Service Plan
Yearly service including filter and coil clean and 1 major service, covering our 15 point essential checks. There's no long term contractual obligation either, so you're welcome to cancel at any time should you wish. 
£90 plus VAT for the 1st unit
£40 plus VAT for each additional unit
Large Commercial Buildings and Schools
Please contact us for a customised quotation
Labour included for first hour on site
additional hours onsite @ £40/hour 
All repair parts billed in addition
All costs are subject to VAT at the standard rate
Our 15 Point Air Conditioning Checklist
Check/clean the outdoor condenser unit and indoor evaporator unit coils and fins to prevent the system from getting blocked.
Check for any faults on the unit remote and set the correct time. Set timers for customers where requested and if their system contains this feature.
Check the fan, fan motor, compressor and compressor mountings.
Check all electrical connections to prevent any shorting out or electrical damage.
Check fuses and test operation of electrical isolator and protection devices for safety.
Check condensate pump and float/sensor to help prevent unexpected leaks.
Check and flush condensate drain and tray, de-scale and add water treatment as necessary.
Check condensate flow via gravity drain or pump.
Check air ducts, air grilles, filters and insulation.
Check refrigerant pipe work for integrity and thermal insulation.
Check temperature difference across coils in cooling and heating modes to indicate the health of the system.
Check unit operation, controls and settings.
Check any unit louvres and louvre motors.
Ensure the unit is clean and hygienic using anti-mould and anti-bacterial cleaners.
Check unit fascia's and covers to ensure no cosmetic damage/broken hinges.